Ways of Remembering
To Remember Me - Organ Donation


Journey of Hearts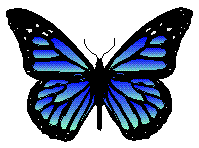 A Healing Place in CyberSpaceTM
Share your life...

As a physician, I have had to approach families following the often sudden death of a loved one. Organ Donation is a way of turning the sudden loss into a positive experience, and becomes a way of remembering.
In December the American Medical Association voted to endorse the approach of the Texas Medical Association's "Live and Then Give" program. The AMA is now looking into ways that it can work with all states to implement the program nationally and is working to increase public awareness about organ donation. I realized that our website was a perfect area for educating people on organ donation and was a way, as an AMA Member, to work on getting out the word to the public.
Each day a lucky 55 people (or so) receive an organ transplant,
but another 55,000 are on the waiting list.
10 people on the waiting list die each day,
because not enough organs are available.
Four thousand of them die each year while waiting.
Every 16 minutes a new name is added
to the National Organ Transplant waiting list.
What follows are several inspirational, motivational stories, a variety of resources for organ donation - including information and where to get organ donor cards, and a few other transplant stories we have found on the Internet.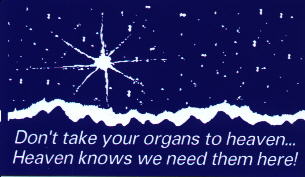 This page was started in response to the following e-mail that we received in July 11, 1998:
On May 1, of this year, our 23 year old daughter, returned home. After an automobile accident in a frightful storm, she sustained a closed head injury and was declared brain dead on May 3. Shannon was an organ donor and I am so very proud of her. I know that she is continuing to fulfill her soul's purpose and I am desperately trying to find a way to make her proud of me. She is the love of my life, my best friend and constant companion and until I learn to hear her with new ears and see her with new eyes my loneliness leads me on a path of discovery. Thank you for being there. It is only in extending love to others facing this same journey, that I can accept the love that will light my way.

There have been so many things that have sustained us in the weeks since Shannon's accident. The gentle compassion extended to us by the hospital staff, chaplain and the Life Net representative, gave us the strength to carry out our daughter's wishes. We found out on the Sunday morning following her accident that there was a 17 year old boy who had been on a heart machine in the hospital for 18 months and because of his unique situation, the heart had to be a perfect match and Shannon's was. We have heard that he has left the hospital for the first time in almost two years. I know that Shannon is grinning from ear to ear. It would please me very much to contribute in some way to your support of Organ Donation. Knowing that other families are together because of our child's generous spirit makes us very happy.; I hope that others will find that same peace.; Love, Jan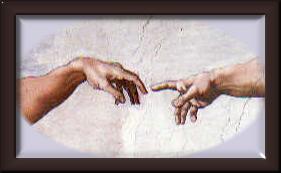 To Remember Me - I will live forever
Robert N. Test
The day will come when my body will lie upon a white sheet neatly tucked under four corners of
a mattress located in a hospital; busily occupied with the living and the dying. At a certain moment a doctor will determine that my brain has ceased to function and that, for all intents and purposes, my life has stopped.
When that happens, do not attempt to instill artificial life into my body by the use of a machine. And don't call this my deathbed. Let it be called the bed of life, and let my body be taken from it to help others lead fuller lives.
Give my sight to the man who has never seen a sunrise, a baby's face or love in the eyes of a woman.

Give my heart to a person whose own heart has caused nothing but endless days of pain.

Give my blood to the teenager who was pulled from the wreckage of his car, so that he might live to see his grandchildren play.

Give my kidneys to the one who depends on a machine to exist from week to week.

Take my bones, every muscle, every fiber and nerve in my body and find a way to make a crippled child walk.

Explore every corner of my brain.

Take my cells, if necessary, and let them grow so that, someday a speechless boy will shout at the crack of a bat and a deaf girl will hear the sound of rain agianst her window.

Burn what is left of me and scatter the ashes to the winds to help the flowers grow.

If you must bury something, let it be my faults, my weakness and all prejudice against my fellow man.

Give my sins to the devil.

Give my soul to God.
If, by chance, you wish to remember me, do it with a kind deed or word to someone who needs you.
If you do all I have asked, I will live forever.
Robert N. Test
The two hand image is adapted from the Creation Series, Creating Adam by Michangelo Cistine Chapel

Transplant Resources
The Organ Donor Stamp

The United States Postal Service (USPS) released the Donor stamp on Wednesday, August 5, 1998. The stamp was designed by artist, Andy Levine and it makes a graphic depiction of the act of donation. The message on the stamp is, Organ and Tissue Donation, Share your life...
If you are interested in Organ Donation, ask your local post office for this special stamp.
AMA to Increase Awareness of Transplantation Live to Give Campaign

Started by the Texas Medical Association's and their Alliance this campaign was aimed to increase organ donation awareness. Now this Campaign will be adapted to the National Level.

Organ Donation (888) 90-SHARE (for a brochure)

Health Resources and Services Administration, Division of Transplantation
5600 Fishers Lane, Rockville, Md. 20857
From the U.S. Department of Health and Human Resources (DHHR) and the Health Resources and Services Administration (HRSA) Human Resources. The site provides information and resources, including many Frequently Asked Questions on Organ and Tissue Donation.
From this site you can download and sign a donor card.
http://www.organdonor.gov

United Network for Organ Sharing 1-888-TXINFO1

1100 Boulders Pkwy Suite 500 P.O. Box 13770 Richmond, VA 23225-8770
The United Network for Organ Sharing, or UNOS joins together the transplant community under a nationwide umbrella. UNOS maintains the database that contains all clinical transplant data. Through the UNOS Organ Center, organ donors are matched to waiting recipients 24 hours a day, 365 days a year. Through its policies, UNOS ensures that all patients have a fair chance at receiving the organ they need - regardless of age, sex, race, lifestyle, religion, financial or social status. UNOS works to raise public awareness about the importance of organ donation and works to keep patients informed about transplant issues and policy.
http://www.unos.org/
TransWeb (734) 998-7314

TransWeb The Northern Brewery Bldg. 1327 Jones Dr., Suite 105 Ann Arbor, MI 48105
The TransWeb Team is composed of people interested in transplantation and donation: transplant patients and their family members and friends, health care providers, organ procurement specialists, donor families, transplantation researchers, and
interested members of the general public. TransWeb is a nonprofit educational Internet resource devoted to transplantation and donation.

Coalition on Donation 1-800-355-SHARE

1100 Boulders Parkway, Suite 500 Richmond, Virginia 23225-8770
The Coalition on Donation is a not-for-profit alliance of both local coalitions and national organizations who have joined forces to promote organ and tissue donation. The Coalition has created national education and action campaigns for distribution. The Coalition is dedicated to educating the public about organ and tissue donation, correcting misconceptions about donation and creating a greater willingness to donate.
The Coalition has developed two key slogans "Are you and organ & tissue donor?" and "Share your life. Share your decisionsm" to promote the importance of donation.
http://www.shareyourlife.org/


National Transplant Society 312-701-0700 · Fax: 312-701-0750

318 W. Adams, Suite 1700 · Chicago, IL 60606
The National Transplant Society is dedicated to serving as an advocate for the American people - on issues relating to organ donation and transplantation.
The mission is to substantially increase the availability of lifesaving organs in the near term, and to serve as the advocate and representative of the American people on issues relating to organ donation and transplantation.
January 4th for the official launch of the NTS website and the National Donor Registry.
http://www.organdonor.org/


James Redford Institute for Transplant Awareness (310) 441-4906

10573 West Pico Boulevard # 214 Los Angeles, CA 90064
The James Redford Institute for Transplant Awareness was established by James Redford following his 1993 liver trahsplant. The JRI is an independent, non-profit organization dedicated to producing and distrubuting high-quality films, develop educational support materials and create an outreach program to educate the public about the issues of organ and tissue donation and help build the base of potential organ donors.
http://www.jrifilms.org


Transplant Recipients International Organization, Inc. (TRIO) 800-TRIO-386

1000 16th Street, NW Suite 602 Washington, DC 20036-5705
TRIO is an independent, not-for-profit, international organization commited to improving the quality of life of transplant candidates, recipients, their families and the families of organ and tissue donors.
TRIO (Transplant Recipients International Organization) organized a unique nationwide campaign (coinciding with the release of the new transplant stamp) to encourage all transplant recipients to stop and say "Thank you!" and write a letter of thanks for their gift of life.

LifeNet 800-847-7831 (800-TISSUE-1)

5809 Ward Court, Virginia Beach, Virginia, 23455, USA.
LifeNet is the largest, full-service, non-profit allograft Tissue Banking System in the United States, providing human allograft tissue transplants to over 50,000 patients a year--worldwide.
LifeNet is a nationally-recognized leader in the field of human allograft tissue banking, providing quality tissue allografts and related services to thousands of hospitals and clinicians --- worldwide.
http://www.lifenet.org/

Other Transplant Stories
7/13/98
Great website! I am dealing my son's diagnosis of leukemia last August, and his bone marrow transplant last November. Tough business, and your website validates the feelings of individuals dealing with major life altering events. Keep up the good work.

Jody

---


10/1/98

Hello. I read the poem, I watch you Go while I was on Journey of Hearts and I want to thank you.
As I read this poem I could see me.

To explain a little more: I am 22 yrs old and I have always been "Daddy's little girl." I looked up to my dad very much. For me he was my dad, mom and my Best friend. We were very close. In May he suffered from a Massive Heart Attack and was awaiting a heart Transplant. At that time I decided to pack my 2 children, leave my life behind, and go to him to make sure everything for my dad would be taken care of.

He lived at the hospital for 3 months while waiting for a heart. This was very hard for the both of us because he was a very strong willed man. He worked for 37 yrs and he was only 52 when this happened, but it also made us even closer because we had to stick together.

In July he started having strokes and it got to a point where there was nothing more the doctors could do. So I had to make the hardest decision in my life--that was to let my dad go. He knew what was going on and this made it even harder to deal with. I will never forget one of the last things my dad said to me:


"Di, it is time. You're strong. Just un plug this and let me go. I love you."


Well I did. I had never felt so alone in all of my life. After that I watched him lay there for 3 more days, until he was gone. It is very hard to deal with but when I read this poem, I thought this is it. This is us. He and I were very close. This was something I never thought would happen to my dad. Now I have to face this and there are alot of times that I dont think I can face this any more. Since I have found Journey of Hearts when I get to that point I come here. It helps a great deal and I really appreciate all of you. So I want to say thank you very much!!

Diana Lerch

Transplant Stories on the Web
---

The Gift of Life Webring

We are honored to be included in the The Gift of Life Webring, as a way to help promote education of the public about the need for Organ Donation.

This ring was created by Deb Alleman, in memory of Cole Anthony Alleman as a way of passing on his legacy by promoting Organ and Tissue Donation. The site was created to link together Donor Families and Transplant Recipient Families throughout the world. We, Donor and Transplant Recipient Families to pass on Loved Ones Legacy, by sharing the stories and educating the general public about making the decision to share their life by giving "The Gift of Life".

<!Begin The Gift Of Life Ring>

<!END The Gift Of Life Ring>
---
Last updated January 30, 1999
The Green Ribbon signifies organ donation.
All material, unless otherwise specified, is © 1997-9 by Journey of Hearts A Healing Place in CyberSpace. We invite you to share the information on this site with others who may benefit, but ask that you share from the heart only and not for profit.
To contact the Domain Designer email to email@kirstimd.com To return to home page.